~//~
Regarding the Patients of Doctor H__
by Theresa Ala Mode and Mark G. E.
Mixed Media, 1999-2003
An installation that appeared as part of Destination 2: Space on July 25th and 26th, 2003.
The installation explores the history of a mysterious Doctor who treated patients at an insane asylum sometime in the past. Participants experience photographs, patient records, personal belongings, film clips and audio memories of past inhabitants of the space. Audio includes psychotic verbalizations coming from a woman's dress on a wheelchair, a man's fretting and muttering coming from a suitcase, and drone-tones from three sources around the room. Photographs are 30" X 40" archival prints. Film clips are Super 8 film transferred to DVD played in a loop.
The installation presents stimuli to evoke impressions from those who experience it regarding the past lives these patients may have lived. The artists exist in the location in lab coats available for guidance to those who need it.
Click the small picture below for video of the installation (Requires RealPlayer)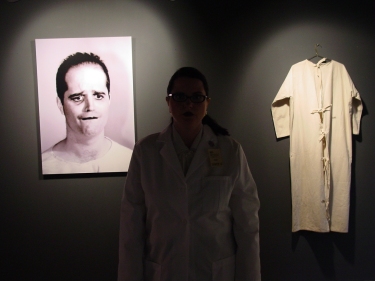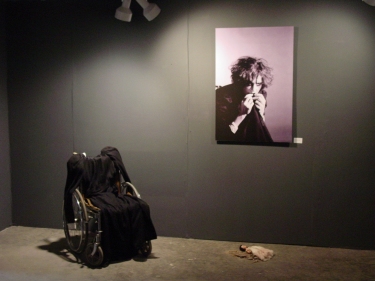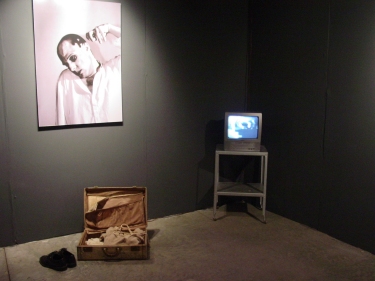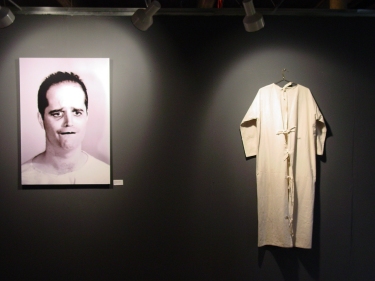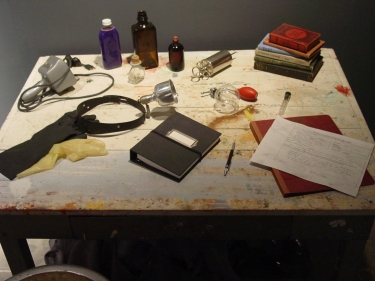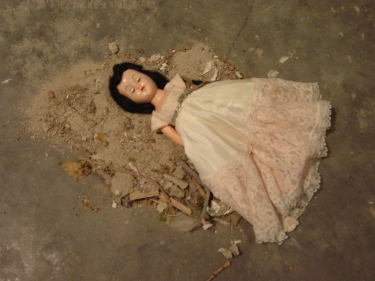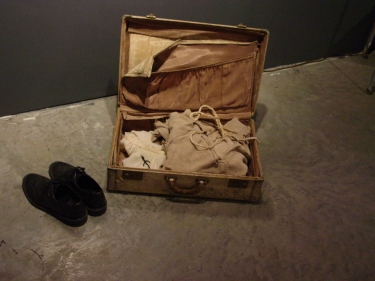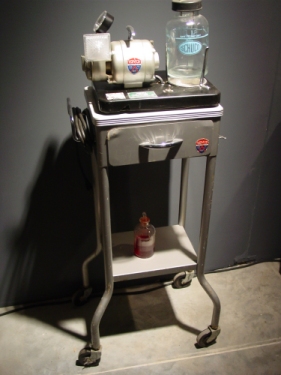 Other Items that have been uncovered and catalogued:
--1--
One Bound Hand-written Laboratory Notebook, with Such Contents:
An Introduction of Major Assertions:
An Overview of the Facts Surrounding the Incident of the Factor in Question
The Gelatin Device and How to use it
Negligence and Why
An Over-usage of Certain Aspects of Theorem Development and it's Consequences
Sampling A Derivative:
The Proper Technique when used in Conjunction
Further Dialogue on Technique While Amongst
Particular Forms for Use (1,2 & K)
Additional Material (to be used as needed):
The Manipulation of parts A and B under Pressure
The Mis-leading Discovery of Madam Fletcher
A Placement in Time (and the Importance of Precision)
The over-use of Tri-partite Theory Development
Addendum to Earlier Sections:
Fairly Well-known Activation Studies which Offer Guidance
The Just-Noticeable-Difference Theory and Why it does not Relate
A Table of Measures Divided into Unequal Parts
The Lesser Known Pre-solved Solutions
--2--
A Medium-sized Wooden Box with Key, Upon Opening to be Found:
One Pair Surgical Scissors
Three Unused Gauze Strips
One Blue Velvet Pouch; contents undetermined
One Pair Eye Glasses
One Felt Square; Green in Color
Two Keys: Purpose Unknown
One Waltham Pocket Watch; 3:35 Displayed
--3--
A Small Collection of Printed Material, Upon Writing Table; as Follows:
Veritae Desnobles; First Edition/Published 1845
About The Testing of Invalids; Fourth Pressing/Jenard Press 1903
Within Dark; Publication Unknown/Pages Missing
Train Schedule, April 1897 - Northern Route/Unidentified Stain
The End of The World by Dr. M. Wilhelm Meyer; Published 1905/C. H. Kerr & Co.
Daseinsanalytic; H. S. Bormann/Published with beige linen cover
Collected Notes, Letters & Postcards From Various Individuals: 46
--4--
Miscellaneous Items Found:
A Visual Catalog of Movement Disorders, Black & White Motion Picture Film
Index Card with the inscription "the moles" written upon it
~//~
Read a panel discussion about the show: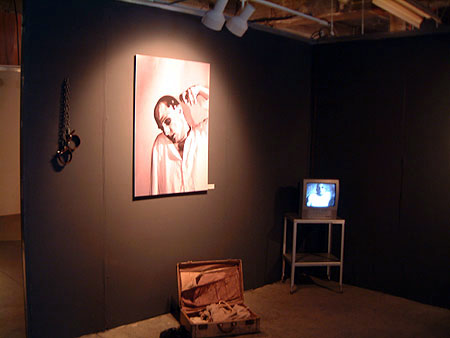 Info About the Entire Destination 2 show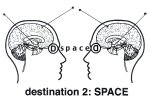 Note: The artists would like to thank J. Karl Bogartte for his assistance.