Dark Comedy for Bright Minds
~ A Dark Spirit Festival ~
A collection of strangely beautiful, oddly compelling,
darkly humorous comedy noir short film and video
by
Mark G. E.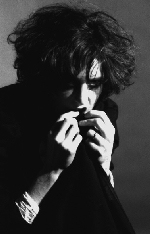 ~//~
One Night Only
Friday October 20th, 2000
The Times Cinema
5906 W. Vliet, Milwaukee
Call 414-453-2436 for advanced tickets
~//~
The Critic's View:
"Although they range from satire to Gothic to noir, the collection of short films by Mark G. E. share a similar atmosphere; equally stark apartments, basements, hotel rooms and office buildings. They also demonstrate a predilection for German expressionism and surrealism using the stiltedness of silent films, the Rorschach quality of Guy Maddin and a self-proclaimed fondness for late illustrator Edward Gorey. While narratively minimalist, rarely linear and various in themes the films tend to be achingly composed. The 50 eight-second tableaux of "The Unfortunate Gift" have a daguerrotype quality of Wisconsin Death Trip, whose filming Mark G. E. chronicalled in Midwestern Gothic. "Visual Catalog" is a haunting portrait of neurological bedlam."
-Duane Dudek The Milwaukee Journal Sentinal
"Mark G. E.'s best work lies in his visual ideas... like Monty Python on magic mushrooms."
-Dave Lurhssen The Shepherd Express Metro
"Mysterious, intriguing, slightly off-kilter. Mark is a mature and skilled director. The composition of his shots are beautifully sculpted. His video work is just as rich-toned as film and possess a quality of depth."
-Elaine Litzau The Milwaukee Orbit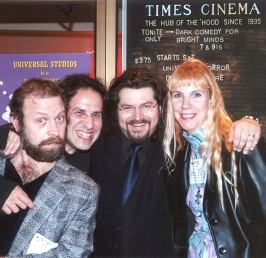 Composer Seymour Muchmore, Writer Paul Sadler, Director Mark G. E., Actor Patty Zatty
Programme included:
~ A Study in Movement and Madness ~
Created by Mark G. E.
~ A Homage to the Late Edward Gorey ~
Written by Mark G. E.
Music by Gideon Freudman
Psycho Probe
~ with the late Graham Chapman of Monty Python ~
Phantom Limb
~ A Severed Limb continues to Kill ~
Written by Mark G. E.
Music by John Kruth
Dark House
~ A Study in The Roles we Play in a Family ~
Written by Mark G. E.
No Fifth Floor
~ Existential Tale of Being Lost ~
Written by Paul Sadler, Mark G. E. & Louise Cooper
The Crying Shame
- Two "room mates" get a visit from dad ~
Written by Paul Sadler & Mark G. E.
PantoCrimes
~ Silent Movie about Pantomimes that commit PantoCrimes ~
Written by Paul Sadler & Mark G. E.
Last Meal
~ Deathrow inmate gets to cook his own last meal ~
Written by Paul Sadler, Mark G. E. & Theresa Ala Mode
Who's to Blame?
~ Man is out to find who is destroying his mail ~
Written by Paul Sadler & Mark G. E.
With Appearances by


&

and Photography by

Sponsored in Part by

Catalog | Mark G. E.