Soul Chamber

12 minute B&W surrealist film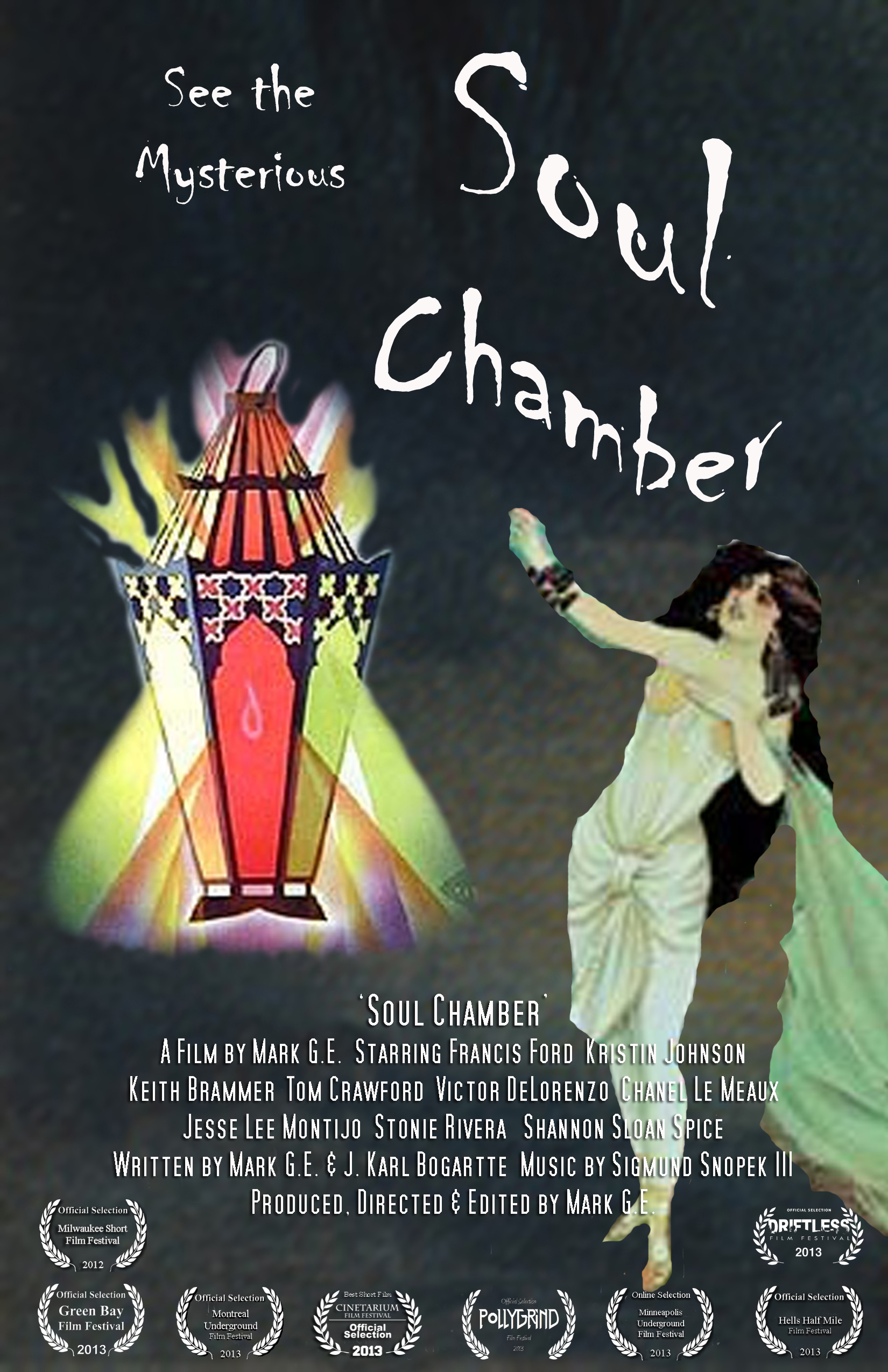 Soul Chamber (Promotional Trailer)
The surrealist tale of a father who becomes corrupted as he exploits his daughter. Removing her
soul, he places it in a chamber and displays it and her doll-like body for profit throughout the
countryside. For the daughter it is a journey of becoming herself and rising above betrayal
through forgiveness.
The filmmaker, Mark G.E. speaks of how 'we must move beyond the pain that was given us by
others and attempt to move toward allowing it to help us rise to a stronger, more empowered
place.' G.E. explains, 'In this film, the father who is charged with taking care of his daughter finds
the lines between love for his daughter and lusting for her to be blurred, following a path of
exploitation that leads to his eventual down fall. On the other hand, this does not have to be the
fate of his daughter.' The daughter chooses a different path that leads to her transcending the
past.
Primarily in the silent genre, the film pays homage to earlier seminal film work. The filmmaker
has long been inspired by silent and early sound films such as Nosferatu, Dr. Caligari and
Vampyr. It is not an attempt to recreate a silent film, as much as it is using the genre and style.
Further, events are not completely defined, creating more of an aquarium by which viewers are
able to determine their own impression of the events that unfold.
The film is directed by Mark G.E., who may be best known for his documentary Midwestern
Gothic, on the making of Wisconsin Death Trip by Academy Award winner James Marsh. G.E.
was the founder of the nationally award winning comedy show Joy Farm in which he appeared
with Monty Python's Graham Chapman. Currently he is half of the ambient-electronic downtempo
group Cyberchump. Mark G.E. has made over 300 short films. His film, The Unfortunate
Gift; an homage to Edward Gorey, was accepted into the Gorey House Archive and was
presented to them by Kenosha author and Gorey collaborator Florence Parry Heide.
The story is told with images by surrealist artist J. Karl Bogartte whose work is in the Milwaukee
Art Museum collection, as well as known world wide. The sets were shot with Bogartte's images
projected on a screen behind the actors. The was no attempt to hide the fact that the
backgrounds are rear projected images, in fact, the look was embraced. The filmmaker has a
love of 'showing the strings' of film making. The origin of the project was the filmmakers' attempt
to incorporate Bogartte's imagery into his work. The Milwaukee Art Museum is among the many
exhibitors that own Bogartte's work. He has created book covers for authors such as Philip
Lamantia.
The music was composed by Sigmund Snopek III and played on an original pipe organ by David
Bohn. Sigmund Snopek has been a dominant figure on the international musical scene since the
late 1960s. As a classical composer, he has written symphonies, operas, ensemble compositions
and song cycles. Many of his major works have been showcased by the major cultural
organizations in Milwaukee, including the Milwaukee Symphony Orchestra, Theatre X,
Summerfest, Irish Fest and Present Music.
Post production was completed by Nick Waraksa whose film "Weeds' was screened at the
Festival De Cannes in 2008.
Many of the people involved with the film are well-known from the art and music scene. The
father is played by Francis Ford, who has been a photographer for over 40 years; Photojournalist,
editorial, fine arts and commercial. Ford has been teaching photography at MIAD and other
schools for 20 years. Ford has had countless single and group photography exhibits. Ford has
published 4 books and has acted in plays and films.
The film is narrated by Victor DeLorenzo of the folk-punk band, the Violent Femmes; one of the
most commercially successful rock bands of the 1980s and 1990s, selling over 9 million albums.
DeLorenzo's acting history extends back to Theater X; an important Milwaukee theater company.
Nowadays DeLorenzo performs percussion in the chamber rock trio Nineteen Thirteen whose
recording of Hurricane Noel was featured in the 2011 TED Global Conference.
Make up and costumes were created by Shannon Sloan-Spice who has performed with Joy
Farm, Renaissance Theater Company and has personally trained with Ben Kingsley and Alan
Rickman.
The puppets were created by German-born New York artist Tine Kindermann, whose dioramas
and peep hole installations made from found objects have been shown all over New York City
and abroad. Tine has worked and played with The Klezmatics, Iggy Pop, Villa Delirium and other
artists.
The landlord is played by Keith Brammer from Die Kreuzen who are named as a source of
inspiration for a wide range of alternative rock musicians, including Soundgarden, Sonic Youth,
Voivod, Drive Like Jehu, Alice In Chains, and Neurosis. Brammer was inducted into the
Wisconsin Area Music Awards Hall of Fame in 2011.
The Woman of Ill Repute is Stonie Rivera from the acclaimed Psychobunnies and Dummy Club in
which she toured Europe and put out seminal recordings. She is the owner of Dominion Gallery.
The Man with Egg is Tom Crawford who is station manager of WMSE and an influential force in
the Milwaukee music scene. Chanel Le Meaux plays the Cleaver Gal and has been touted as
"Milwaukee's Top Torch Singer" and dubbed "the white Aretha."
From Shepherd Express Soul of Silence
By David Luhrssen
Milwaukee's Mark G.E. has been a musician and a cable TV host, but with "Soul
Chamber" he shines under his third hat, filmmaker. A short film in color-tinted black
and white, "Soul Chamber" is an almost silent movie with intertitles interspersed with
voice narration by Victor DeLorenzo and an appropriately moody score by Sigmund
Snopek. An intriguing exercise in Guy Madden Land, "Soul Chamber" explores the
surrealism inherent in early cinema through masterful settings. Milwaukee visual
artist J. Karl Bogartte composed rear screen projections, New York's Tine
Kindermann made the puppets dance and some fine silent era acting was provided
by such recognizable locals as photographer Francis Ford and musicians Keith
Brammer and Stonie Rivera along with WMSE's Tom Crawford.
The Georges Melies-era special effects help tell the uneasy story of a father who
imprisons his daughter's soul and displays her lovely body in a traveling carnival
soul—the sort of production Dr. Caligari might have patronized. "Soul Chamber" will
be featured in this year's Milwaukee Short Film Festival, 7 p.m., Nov. 9 at the
Milwaukee Art Museum's Lubar Auditorium.
Catalog | Mark G. E.