Theresa Ala Mode ~ Photographer/Videographer/Writer/Voyeur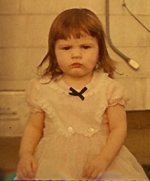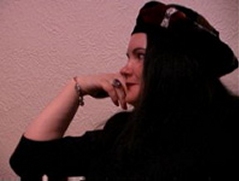 Theresa describes herself as a voyeur at heart. "Since I was born, I have spent my life fascinated with the observation of the surrounding world," says Theresa. "I am always looking for a new medium in which to fulfill my obsession." Theresa began her artist life working on Joy Farm - A nationally award winning television series, then branched out into expressing her vision in photography, writing and award winning video production.
Current Projects
· Maybe A Baby: A Documentary about the consequences of having and not having a child.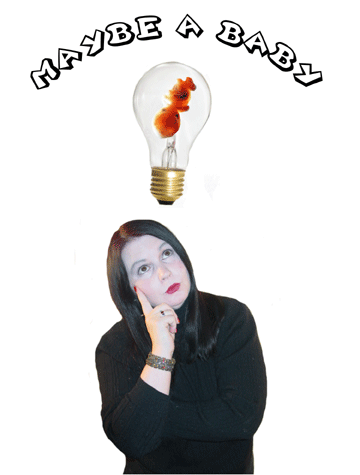 Post Card Series

· They Stayed That Way Series -

Black and White 4" X 6"

High Quality Post Card

Available at Dragonfly on Brady Street, Milwaukee

Installation Work

·Many Happy Returns: an installation exploring the birthday ritual.

·Regarding the Patients of Dr. H_; a collection and further development of Mark G. E.'s film A Visual Catalog of Movement Disorders, Theresa's photographs of asylum residents, and their belongings. The multi-media installation explores the space in which these patients were treated and lived through the ghosts of their images and audio footprints. Click here to see the installation.

Online Photographic Collections

· Black & White Stills of buildings and people.

· Bog Images: Color photographs of narratives played out in an Autumnal bog.

· They Stayed That Way: Black and white portraits of lost souls in small album.

· The Doors of Morocco: Numerous colorful doors in northern Morocco.

· Death Lives Here: Abandoned Church, northern Wisconsin.

· Selections from the Umbrella Series: Color Photographs.

· The Projection Series: Color Photographs.

· Hungry X Slide Show: Various mysterious black and white photographs.

Videography

· Brett Barrett (Color/8 Min): Award Winning expose' of the Kenetic Sculpture Artist.

· Anatomy of a Play (Color/30 Min): Award Winning Documentary about theater director/performance artist Joseph Rabensdorf

· Access: DC (Color/30 Min): Award Winning Outsiders look at Washington DC

· Interview with An Instigator (Color/30 Min): Expose' of Videographer Mark G. E.

· Technical Assistance for Joy Farm - Nationally Award Winning Television Program 1984-1999.

Selected Writing

· Why Do People Always Want to Change Us, 1997.

Published Photography

· Dust cover photograph of author John Kruth for Bright Moments: The Life and Legacy of Rahsaan Roland Kirk, Welcome Rain Publishers, 1999.

Scripts for the Joy Farm Television Program

· New Improved Wo/Man (with Mark G. E. & Louise Cooper)

· Cancer (with Mark G. E.)

· Visible Gun Law (with Mark G. E.)

· Burning Desire (with Louise Cooper, Seymore Muchmore & Mark G. E.)

· Biting the Hand (with Paul Sadler & Mark G. E.)

· 8 Track Will (with Paul Sadler & Mark G. E.)

· The Job (with Mark G. E.) · Simplex Mind (with Louise Cooper & Mark G. E.)

Musical Composition

· Love Offering (with cyberCHUMP): CD release cyberCHUMP: Dreams Groove, 2000.

· Shedding: Original recording with Mark G. E., 1999.

Awards & Exhibition

· 1994 Hometown National Video Festival Finalist for "Brett Barrett" (Color/8 Min).

· 1993 Philo Award for "Brett Barrett" (Color/8 Min).

· 1994 Philo Award for "Anatomy of a Play" (Color/30 Min).

· 1995 Philo Award for "Access: DC" (Color/30 Min).

· 2002 They Stayed That Way; A Photographic Display, Oct. 18th, Bliss Gallery.

· 2003 Regarding the Possessions of Dr. H_. - A multi-media installation.

· 2003 Many Happy Returns - A multi-media installation.

Home | E-Mail Theresa

Ala Mode Productions