Article from Milwaukee City Life Magazine November, 2002
Creative Combo
Story by Janel Van Beek - Photography by Andi Loppnow
Mark Eberhage's passion for both helping people and entertaining them has helped him weave a very artistic and rewarding professional career. As president and chief psychologist of Behavioral Solutions Inc. (BSI), Eberhage has used his past experience as the Director of Geriatrics and Outpatient Care for Charter Behavioral Health System.
"We have built a nursing home practice of psychotherapy and psychiatry; we provide behavioral consultations to the elderly in the nursing home and the nursing home staff. For example, we train nursing home staff on how to work with patients in a compassionate way. Our work includes those living in nursing homes that are living a full life. Many active seniors need help dealing with loss."
The success of Eberhage's company is very apparent. Behavioral Solutions Inc. has contracts with nearly 45 percent of the nursing homes in the Milwaukee area. "We have managed to put together a great team of psychologists, psychiatrists, social workers and nurses to deliver our care."
Eberhage feels fortunate to use his creativity in all areas of his life, including founding a neopsychedelic band called cyberCHUMP and a record label, Internal Combustion.
In his artisitic world, Eberhage is known as Mark G. E. "Jim Skeel and I are cyberCHUMP. We have many guest musicians like John Kruth, a mandolin player, Jason Loveall, a violinist from The Danglers, Jason todd, a sax player from Def Harmonic, and Mike Kashou, a bass player from Garbage in it's formative years."
"Jim and I collaborate our time to create music over the internet. We call our music neopsychedelic, multiethnic groove music. You can find some of songs on WMSE. And of course you can buy it on Amazon.com or at Atomic Records."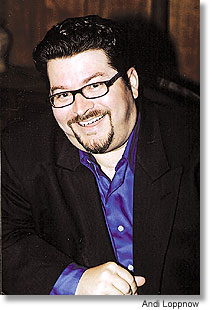 Eberhage also creates films and has formed a comedy troupe called Joy Farm, which has won nearly 40 local and national awards. "I started making films at age 12. My mother said instead of becoming an unemployed film maker, I should be a psychologist an use the money to make films. I listened to my mother."
From MTV exposes' to documentaries, Eberhage is an experienced artist. Locally, Eberhage was named best film maker 1999 and 2000 by The Shepherd Express. Eberhage shares his film making passion with his wife, Theresa. "She is currently working on a documentary about the consequences of having and nothaving children."
Eberhage's next film is about the gift of forgiveness. "It's about forgiving your parents and about compassion. It's a collaboration with a local surrealist artist, J. Karl Bogartte."
Itís easy to see that success for Mark Eberhage is based on creativity and collaboration. And a good balancing act.
Catalog | Director | Midwestern Gothic | Kirk | Kruth