PROJECTS and NEWS:
Xposed 4Heads was resurrected in 2012. Click the image to go to the website to see what is happening: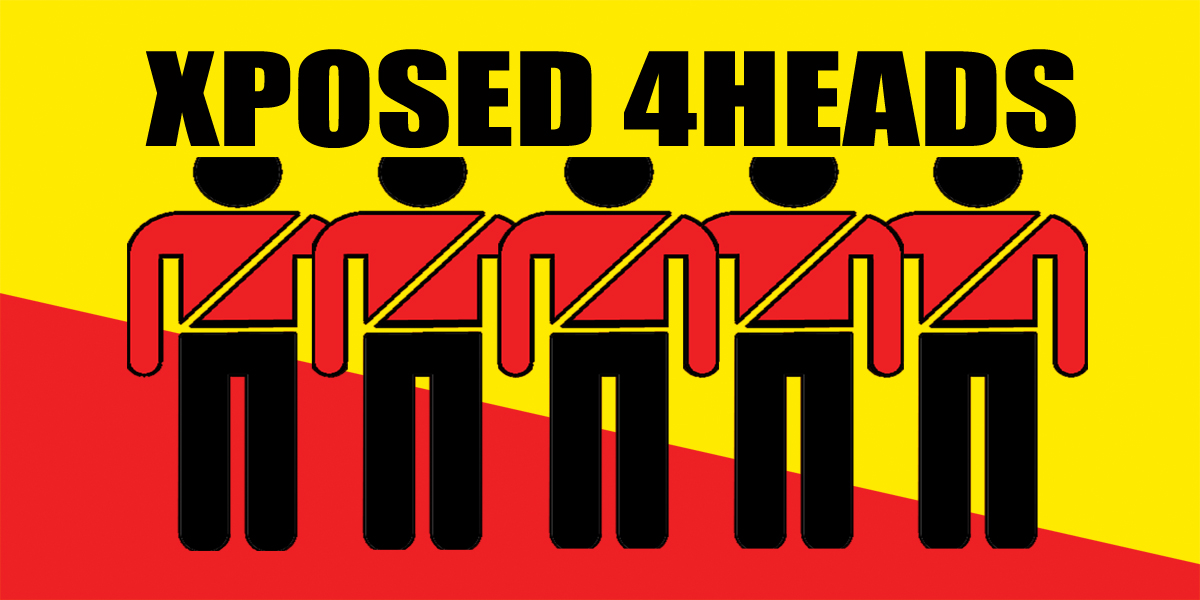 Zombie Frat House Soundtrack
Cyberchump completed the soundtrack for a full length feature: Zombie Frat House which premiered at the Lubar Auditorium, Milwaukee Art Museum on Sept 5th, 2014.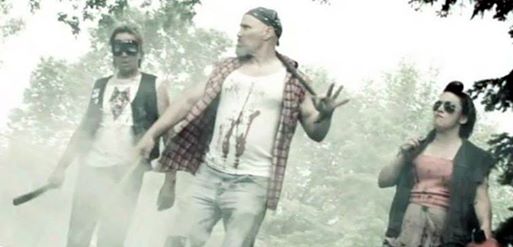 Xposed 4Heads reunited 2013 for Trashfest with a new 5 Head line up that included Carter Hunnicutt, Kelp Chofs, Andy Stilin, as well as usual suspects, Bob Jorin and Mark G.E.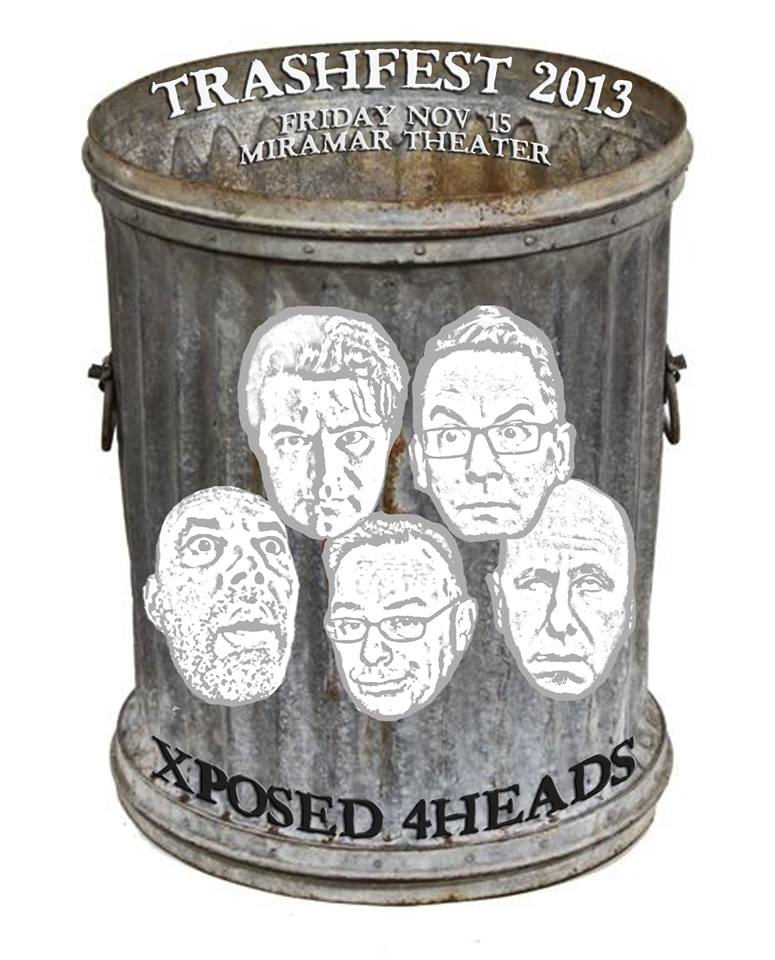 Soul Chamber
Mark G.E.'s Soul Chamber has screened at 8 film festivals such as the Montreal Underground Film Fest and PolyGrind of Las Vegas after premiering at the Milwaukee Short Film Festival. The short film is a collaboration with surrealist artist, J. Karl Bogartte and includes the talents of many notable Milwaukee artists, actors and musicians.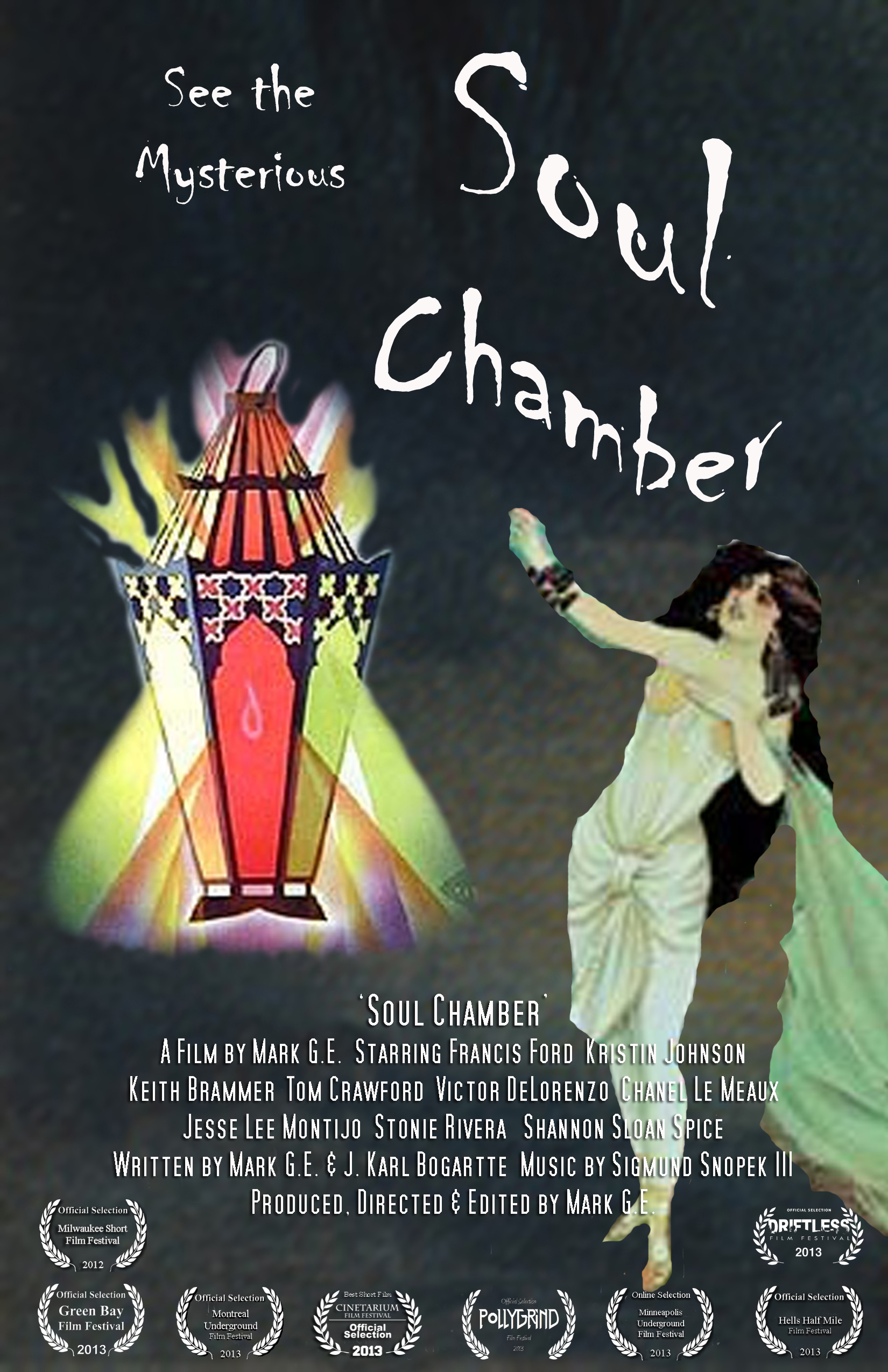 Cyberchump: Flutter and Flow
Cyberchump released this instrumental cinematic soundscape of science beats and evocative atmospherics in 2013. It can be heard on national ambient programs, Pandora and throughout the internet.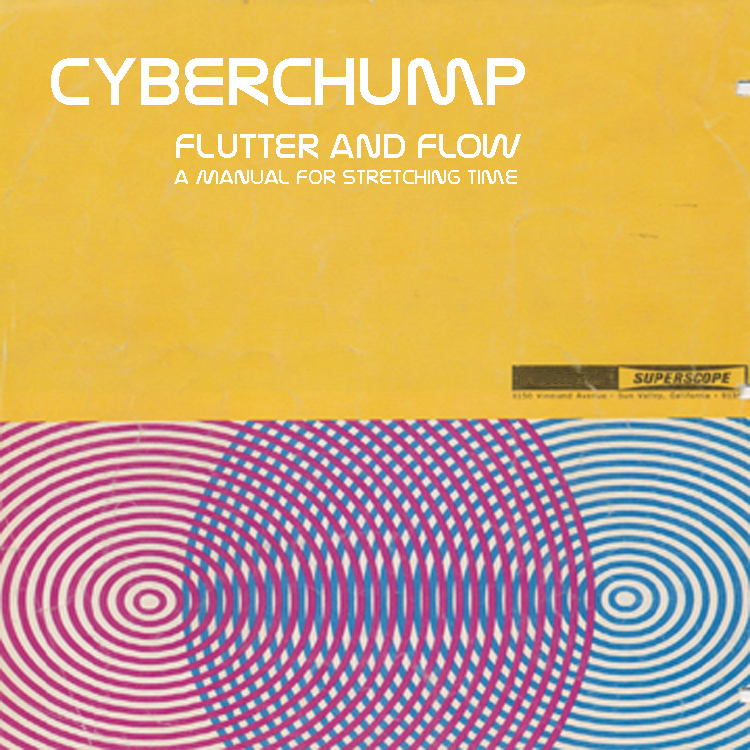 Xposed 4Heads Rears it's Four Heads for Lest We Forget Benefit at Turner Hall 2012
Not seen since the early 80's, or maybe ever, Xposed 4Heads shows up to perform Nice Guy, Big Weenie and others. This line up included Co-4Head Bob Jorin, Carter Hunnicutt (Those xCleavers) and Andy Pagel (St. Bernard).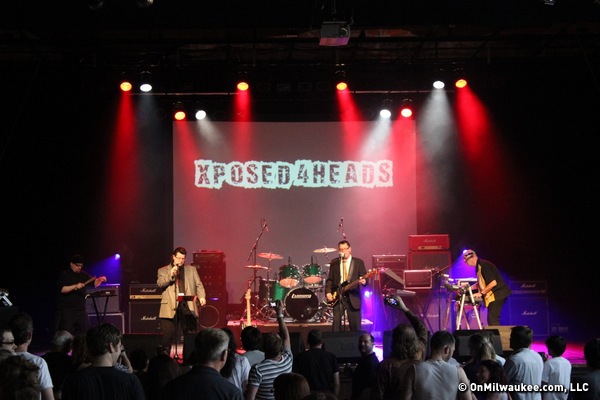 Cyberchump - Their Moment of Perfect Happiness
This double CD release combines downtempo electronica beats, cinematic sci-fi themes and still, ambient soundscapes.
They Came From Underground!
Back in the 1980's Mark G. E., along with M. W. Klobassa and Rebecca Gavin videotaped and interviewed numerous seminal bands that went on to make history. Live footage of bands like Sonic Youth, They Might Be Giants, Red Hot Chili Peppers, Minutemen, Husker Du perform in this document of mid-80's music Thursday Nov. 18th at the Oriental Theater.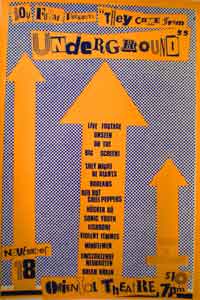 You're The Best:
Mark G. E. and Theresa Ala Mode collaborated on this performance art piece for the 2010 Performance Art Showcase. The piece consisted of choosing people at random to be wisked up to the podium to be presented an award for being 'The Best." The audience was told that the judges had, after much deliberation, made their decision and that the recipient has been chosen to win an award. The presenter then gushed over the award winner making superficial comments that never tell them anything.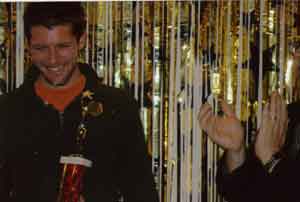 Cyberchump releases Remixes of First Two Albums:
Laptop tweaker, Janzyk, remixes, re-envisions and reworks the first two Cyberchump albums. All things Cyberchump can be found here: http://www.cyberchump.com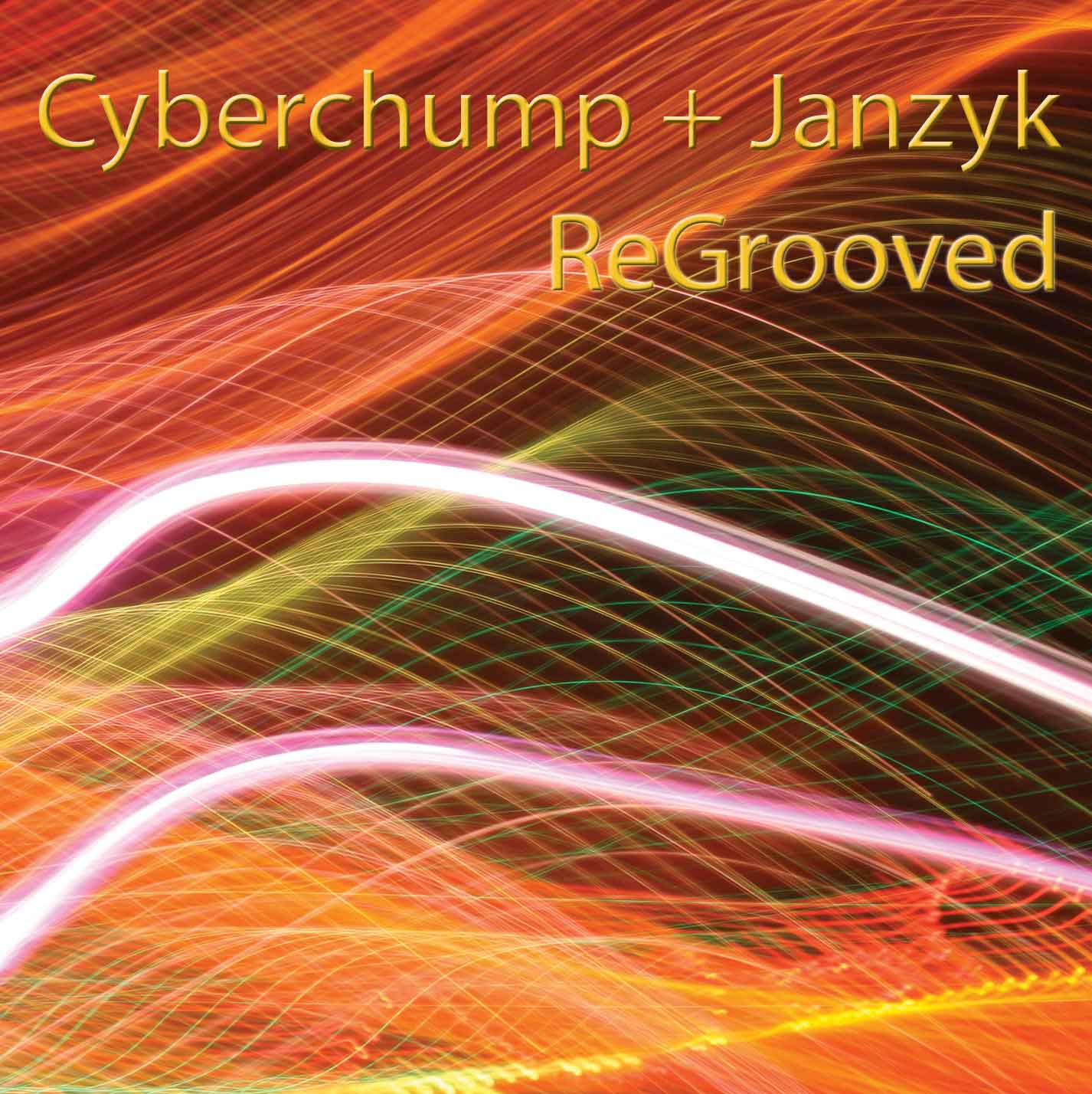 Cyberchump releases Our Wizards of Earth:
Endlessly searching for new territory, the Chumps have crafted an album from impromptu jams that draws on elements of guitar-driven post-rock, Krautrock, and electronic-organic down-tempo chill.

Cyberchump releases Sankhara:
Fragments of fragile melodies amid beatless soundscapes that explore our inner and outer lives. Experimental and ethereal, Sankhara is being played on independent radio stations around the world. Click here to learn more.

Movie Maker Magazine:
The Spring 2005 Issue of Movie Maker Magazine did a two page expose on Milwaukee's film making scene. Local film makers like Mark Borchardt, Tate Bunker and Mark G. E. provided their comments on making movies in Milwaukee.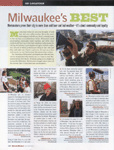 cyberCHUMP Releases Fifth Full Length "Secrets to Tell You":
Wind and Wire refers to cyberCHUMP as "one of the most intriguing, unpredictable, and ENJOYABLE recording acts in ambient music." The fifth CD by cyberCHUMP combines much of the sonic elements of the ambient release Abstract Air with the instruments of Inner Grooves and the electronica of Scientists in the Trees. Of the work, Jim says it is "somehow a travelogue." For this project the 2 chumps sampled much of their own work, combining it with new live and guest performances to create an elegant set of ambient electronica. Secrets to Tell You is receiving airplay on stations all over.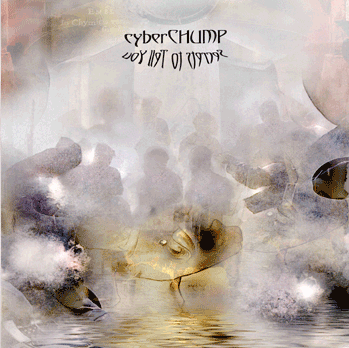 Dark Works DVD Collection Released:
The Unfortunate Gift, A Visual Catalog of Movement Disorders and The Dark House have all been released on one DVD collection. Duane Dudek of the Milwaukee Journal Sentinal says, "The collection of short films by Mark G. E. share a similar atmosphere; equally stark apartments, basements, hotel rooms and office buildings. They also demonstrate a predilection for German expressionism and surrealism using the stiltedness of silent films, the Rorschach quality of Guy Maddin and a self-proclaimed fondness for late illustrator Edward Gorey. While narratively minimalist, rarely linear and various in themes the films tend to be achingly composed. The 50 eight-second tableaux of "The Unfortunate Gift" have a daguerrotype quality of Wisconsin Death Trip, whose filming Mark G. E. chronicalled in Midwestern Gothic. "Visual Catalog" is a haunting portrait of neurological bedlam."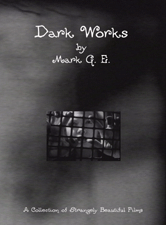 Midwestern Gothic released on DVD with Wisconsin Death Trip:

Mark G. E.'s Midwestern Gothic: The Making of Wisconsin Death Trip has been released as the supplemental material on the new Wisconsin Death Trip DVD by Home Vision Entertainment and Tartan Video in the UK. Edited by

Brooke Maroldi with music by John Kruth. You can get a copy at amazon.com. Click the logo for info...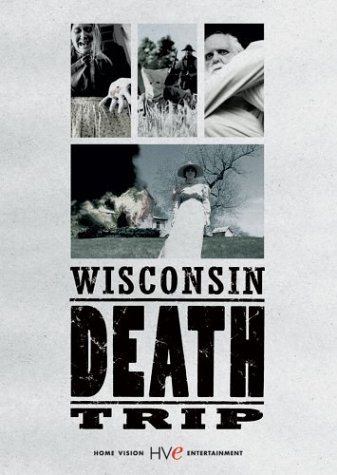 Outdoor Indie Projections during Milwaukee International Film Festival:
Mark G. E.'s A Visual Catalog of Movement Disorders will be included in Outdoor Indie Projections. During the 2003 Milwaukee International Film Festival films by Tate Bunker, Jamal Currie, Mark G. E., Dean Richards, Jesus Ali, Mark Escribano and others local film makers will be presented in large scale on prominent Eastside buildings. Click logo for photo...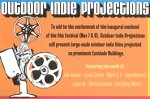 Destination 3: Collection and Repetition:
Theresa Ala Mode and Mark G. E. collaborated on an installation entitled: Many Happy Returns which appeared at Destination 3 in the Gas Light Building in the Third Ward on Oct 24th and 25th, 2003 for Fall Gallery Night & Day. Many Happy Returns explores the ritual of celebration, the meaning and eventual loss of meaning through repetition itself. The installation will include collected photographs of birthday cakes and their recipients. Destination 3 is a collective of Milwaukee multi media artist who create thought provoking and compelling installations. Click on picture below for more info...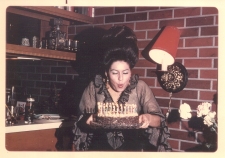 They Might Be Giants:
In 1986 Mark G. E. and M. W. Klobassa video taped They Might Be Giants as they played in Kansas City. Some of that footage is included in the official documentary "Gigantic: A Tale of Two Johns" which premiered at SXSW and is currently touring the country. The two Mark's footage of Hide Away Folk Family is in the documentary. The DVD release includes the complete vintage live recording of Mr. Me and Hide Away Folks Family.
Click the Poster for more info about the film and info on the DVD release

Re: The Patients of Dr. H.; an installation:
Mark G. E. and Theresa Ala Mode have collaborated on an installation presented at the Summer 2003 Gallery Night. The piece is entitled Regarding the Patients of Dr. H., it is a collection and further development of Mark's film A Visual Catalog of Movement Disorders, Theresa's photographs of asylum residents, and their belongings. The multi-media installation explores the space in which these patients were treated and lived through the ghosts of their images and audio footprints. This installation is part of Destination 2; a multi-artist installation exhibit in the Gas Light Building in the Third Ward on July 25th and 26th. To see the installation click the picture below...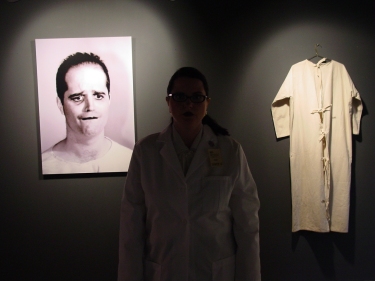 The Unfortunate Gift Placed in Illustrator's Archive:
Mark's film The Unfortunate Gift: an Homage to Edward Gorey has been placed in the Gorey House Archive. The Edward Gorey House celebrates and preserves the life and works of Edward Gorey, an American author, illustrator, playwright, set and costume designer. In honor of his legacy, The House, owned and lived in by Gorey himself, displays his diverse and extraordinary talents and reflects his distinct personality. A great big thank you goes out to author Florence Parry Heide, author of The Shrinking of Treehorn (illustrated by Gorey), who brought the film to their attention. For more information, click the logo below...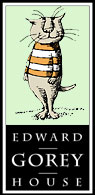 Ambient Release:
As a "diversion of cyberCHUMP", Mark G. E. and Jim Skeel have released a new soundscape CD called Abstract Air: Experiments in Aural Sculpture. The CD is comprised of 7 ambient atmospheric texture-scapes. The center piece is The Kursk Suite; a three-song contemplation on the sinking of the Russian submarine K-141. Read more here...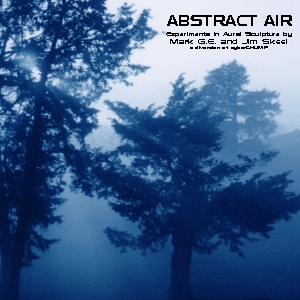 In the Press:
Mark was listed as one of 50 People You Should Know in Milwaukee Magazine, January 2003 and had an expose in Milwaukee City Life Magazine, November 2002. Read more here:
Brew City Shorts
Mark G. E.'s short "The List" screened Monday November 25th, 2002 at 8pm at the Hi Hat Garage. Written by Louise Cooper, Mark G. E. and Theresa Ala Mode, The List is a story about a woman who learns she is going to die in five days. In response she makes a to-do list and embarks on completing it before she dies.
Document/OBSESS
Mark G. E.'s performance art piece "Please" debuted November 15th and 16th, 2002 at Walker's Point Center for the Arts as part of the Document/Obsess Construct Series produced by All*Cin Productions. Artists in the Document/Obsess series created a variety of works that showed how technology has driven an obsession with memory, personal imagery and self-indulgence. Shannon Sloan-Spice and Dash Lea performed in the piece. Click the photo for more info ...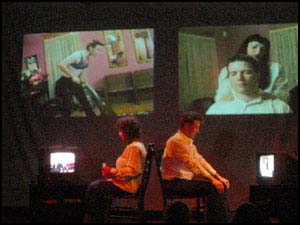 Bliss Gallery
Mark G. E.'s The Unfortunate Gift and A Visual Catalog of Movement Disorders appeared at Bliss Gallery October 18th, 2002 from 5pm to 11pm as part of the upcoming Gallery Night. Bliss Gallery is located at 710 W. Mitchell Street. Special thanks to Melissa and Brooke Maroldi.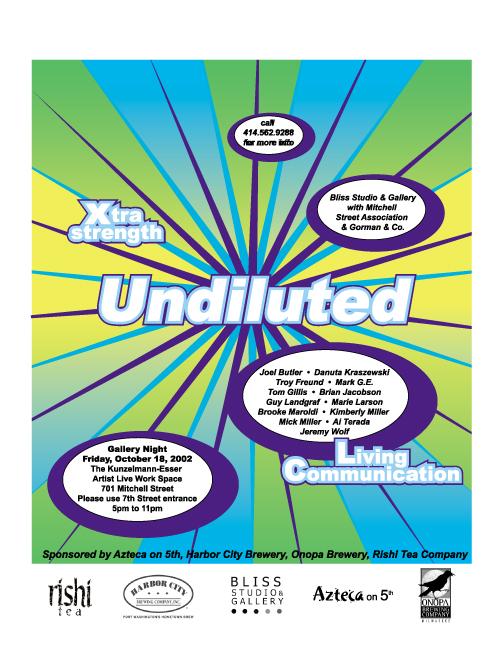 Performance Artist Joseph Ravens
Mark G. E. has captured a number of pieces by performance artist Joseph Ravens on video. Some of them can be seen by clicking the picture of Joseph below.

Early cyberCHUMP:
June, 2002: Mark and Jim released the second cyberCHUMP CD; Inner Grooves. Guest musicians include Jason Loveall (blues violin player from The Danglers, Jason Todd (soprano saxophone), Mike Kashou (bass player on the first Garbage release), John Kruth (multi-instrumentalist) and others. The second CD is described as genre defying neo-psychedelic music with dark tones and deep grooves.
In 2000, Mark G. E. and Jim Skeel released cyberCHUMP: Dreams Groove. The sound is instrumental groove world music with guest appearances by John Kruth on Raita, Ko Thi's Jahmes Finlayson on Berimbau and Hand Drums, One Drum's Julio Pabon on Digerido, Hafiza Capehart on Flute and a special apearance by the Orbitan Trio. Mark G. E. & Jim Skeel provide a base of psychedelic grooves with Theremin, Guitar, Keyboards, Tape Loops and found audio appearances by former Violent Femme Victor DeLorenzo, WMSE DJ Jules and others.
MIDWESTERN GOTHIC: The Making of Wisconsin Death Trip
Mark's documentary on the making of James Marsh's film adaptation of the Michael Lesy book,"Wisconsin Death Trip" was shot in Wisconsin during the sequecentenial year. Director James Marsh and Hands On Productions allowed Mark to follow them as they worked on this film about the human condition in Wisconsin during the 1800's. Edited at Magpie Media by one of Milwaukee's best film maker's, Brooke Maroldi, MIDWESTERN GOTHIC premiered at the Wisconsin Film Festival Sunday April 2nd, 2000 and was screened at The Times Cinema June 30th, 2000. For more information click MIDWESTERN GOTHIC.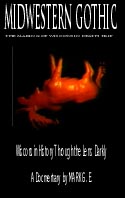 The Unfortunate Gift

Edward Gorey died April 15th, 2000. Mark G. E.'s homage to Edward Gorey is a haunting, strangely beautiful Victorian tale of three orphan brothers. Click The Unfortunate Gift to learn more.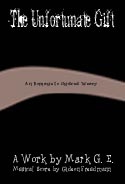 Here is a nice mention in one of the foremost Gorey web sites:

The Clever Children
Read a short dark poem by Mark G. E.: The Clever Children.
Rahsaan Roland Kirk
Continuing Project - Mark is working on a documentary on Jazz innovator Rahsaan Roland Kirk which follows interviews conducted for John Kruth's book BRIGHT MOMENTS: The Life and Legacy of Rahsaan Roland Kirk (Welcome Rain Publishers). So far the documentary includes Joel Dorn, Hal Wilner, Steve Turre and Todd Barkan. Click here to go to the Rahsaan page.
Curious Oddities
Contact Mark G. E.
Catalog | Director